Rev. Stephanie

Woods, Pastor
I am so excited to get to know all of you and for us to begin doing ministry together! I am an alumna of Ashland University and Duke Divinity School and am almost finished with my PhD dissertation at Boston University. I have been married for 9 years to my husband David, who is a high school math teacher at Crestline High School. We have two cats, Baby and Smokey Joe. One of them will be happy to greet you if you visit the parsonage, and the other will run and hide. In our free time we enjoy playing board games, drinking good coffee, going for walks, and planning prom for David's students. I also enjoy reading, playing flute and mountain dulcimer, running, knitting, and sewing.
Angela Yarwood, Family Education Coordinator
Angela has been a member of St. Peter for most of her life, and recently moved back to the area with her husband, Jim, and two children. Angie has previously served in various volunteer roles at St. Peter and her former church in Fort Worth, Texas. She has her Masters Degree in Social Work from Loma Linda University and her Bachelor of Arts degree from Baldwin Wallace University. She enjoys spending time with family and friends, serving in the community, and watching sports.
Estella (Kay) Ringley, Organist/Pianist
My background is in the Moravian church. (The Moravian Church is much like the Lutheran Church. In fact, a few years ago, the Moravians and Lutherans were united in the Midwest.)

When I was a teenager, I played the piano for Sunday School classes and took lessons to become an organist. I got my Bachelor's Degree and taught in the Massillon City schools; then went on for my Master's Degree and graduate work at Ohio State University. I taught in Southeast schools. My degrees were not in music, but I have continued to study on the organ.

I am married to Lloyd Ringley, Sr. (My husband has music degrees and was a Band Director in the Wooster City Schools. He provides feedback in my music career.)

When my husband and I retired from public education, we moved to Florida. We lived there 20 years and I played the organ for The Salvation Army and the Congregational Church. I like to be involved in the churches that I attend and my membership is with the Congregation Church in Citrus Springs, Florida.

I am looking forward to being your organist.

C. F. Crum, Choir Coach
We are so pleased to have Crum as our Choir Coach. He is retired from the education field; more specifically he was a band director. He and wife, Jennifer moved to the area and live on a 10-acre homestead with animals and gardens. Other hobbies include bike riding; they have spent many hours riding the bike trails in Ohio. We are pleased they have made St. Peter their church home.
If your are interested in having fun and learning music in a relaxed setting join us. Contact Pastor Stephanie or Coach Crum with questions.
All are welcome!
Madalyn Schmucker, Church Administrator
Madalyn began her service at St. Peter in April 2022. Madalyn graduated from Northwestern High School and has recently moved back to New Pittsburg with her husband, Caleb and 2 children, Nora and Nolan. She has been a lifelong member of St. Peter and can be reached at office@stpeterelca.org.
Stacey Van Winkle, Custodian
Stacey became our custodian in September 2020. She is the mother of 2 kids & 5 fur kids. She is a lover of all animals big & small. Stacey is a 2004 graduate of Ashland High School & has been living here in New Pittsburg for almost 11 years. She is huge into sports (Denver Broncos, Boston Celtics, Boston Red Sox & Boston Bruins). She also loves watching NASCAR as her cousin is Ryan Blaney. Her faith is big as Jesus has saved her life many times.
Elly Rice, Emeritus Organist
Elly became one of St. Peter's organist in 1950 when she was 18 years old. Her ministry to St. Peter extended beyond music including roles such as treasurer and council member. Elly continues to be a blessing to our congregation offering music supply when the need arises.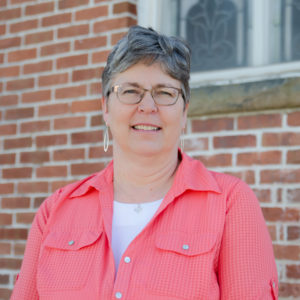 Rita Tegtmeier, Treasurer
Rita began keeping the church's finances in 1996. A lifelong member of St. Peter, she has an Associate Degree in Accounting from Wooster Business College. In addition to her service to St. Peter, Rita serves as the cafeteria manager at Northwestern Elementary School. Rita can be reached at treasurer@stpeterelca.org.
Tara Vaughan, Panda Preschool Administrator
Tara has been educating future generations at Panda Preschool serving as teacher since 2007. She has served as the Administrator since 2012
in addition to her role as teacher.
Tara has a Bachelor's of Education from Ashland University, and is a lifelong member of St. Peter. Tara can be reached at pandapreschool@stpeterelca.org.