Stephanie

Woods, Pastor
I am so excited to get to know all of you and for us to begin doing ministry together! I am an alumna of Ashland University and Duke Divinity School and am almost finished with my PhD dissertation at Boston University. I have been married for 9 years to my husband David, who is a high school math teacher at Crestline High School. We have two cats, Baby and Smokey Joe. One of them will be happy to greet you if you visit the parsonage, and the other will run and hide. In our free time we enjoy playing board games, drinking good coffee, going for walks, and planning prom for David's students. I also enjoy reading, playing flute and mountain dulcimer, running, knitting, and sewing.
Angela Yarwood, Family Education Coordinator
Angela has been a member of St. Peter for most of her life, and recently moved back to the area with her husband, Jim, and two children. Angie has previously served in various volunteer roles at St. Peter and her former church in Fort Worth, Texas. She has her Masters Degree in Social Work from Loma Linda University and her Bachelor of Arts degree from Baldwin Wallace University. She enjoys spending time with family and friends, serving in the community, and watching sports.
Musician Position Open:
Organist or Pianist, Possible Choir Director
Musician to provide leadership for traditional worship Sundays 10 am, plus some seasonal and special services. Qualifications include experience playing piano and/or organ as well as familiarity with liturgical worship. Start immediately. Additional pay directing choir. Contact the office, 330-264-1986 or office@stpeterelca.org.

C. F. Crum, Choir Coach
We are so pleased to have Crum as our Choir Coach. He is retired from the education field; more specifically he was a band director. He and wife, Jennifer moved to the area a few years ago and live on a 10-acre homestead with animals and gardens. Other hobbies include bike riding; they have spent many hours riding the bike trails in Ohio. We are pleased they have made St. Peter their church home.
If your are interested in having fun and learning music in a relaxed setting join us. Contact Pastor Tina or Coach Crum with questions.
All are welcome!
Mary Kinney, Church Administrator
Mary began her service at St. Peter in October 1991. A longstanding member of the congregation, Mary is the point person for communication in our community and can be reached at office@stpeterelca.org.
Stacey Van Winkle, Custodian
Stacey became our custodian in September 2020. She is the mother of 2 kids & 5 fur kids. She is a lover of all animals big & small. Stacey is a 2004 graduate of Ashland High School & has been living here in New Pittsburg for almost 11 years. She is huge into sports (Denver Broncos, Boston Celtics, Boston RedSox & Boston Bruins). She also loves watching NASCAR as her cousin is Ryan Blaney. Her faith is big as Jesus has saved her life many times.
Elly Rice, Emeritus Organist
Elly became one of St. Peter's organist in 1950 when she was 18 years old. Her ministry to St. Peter extended beyond music including roles such as treasurer and council member. Now enjoying retirement with her husband Walt of over 66 years, Elly continues to be a blessing to our congregation offering music supply when the need arises.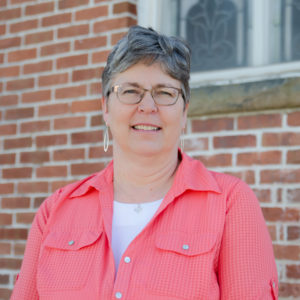 Rita Tegtmeier, Treasurer
Rita began keeping the church's finances in 1996. A lifelong member of St. Peter, she has an Associate Degree in Accounting from Wooster Business College. In addition to her service to St. Peter, Rita serves as the cafeteria manager at Northwestern Elementary School. Rita can be reached at treasurer@stpeterelca.org.
Tara Vaughan, Panda Preschool Administrator
Tara has been educating future generations at Panda Preschool for the past decade. The past five of
those years she has served as the Panda Preschool Administrator in addition to her role as teacher.
Tara has a Bachelor's of Education from Ashland University, and is a lifelong member of St. Peter. Tara can be reached at pandapreschool@stpeterelca.org.