The Reverend Kristina N. Heise, Pastor
Pastor Tina is an ordained Minister of Word and Sacrament of the Evangelical Lutheran Church in America. Before receiving her Masters of Divinity from the Lutheran School of Theology at Chicago, Pastor Tina served in various congregations including Pilgrim United Church of Christ in Cleveland, OH; St. Luke's Lutheran Church of Logan Square in Chicago, IL; Bethel Lutheran Church in St. Louis, MO; and Gloria Dei Lutheran Church in Northbrook; IL. She also served as Registry Chaplain for the University of Chicago Medical Center. She has a Bachelor's of Social Science from Ashford University.
Pastor Tina received a Congregational Fellowship in 2011 from the Forum for Theological Education and is a member of the Academy of Preachers. Through these experiences, several of her sermons have been published in compilation books including Uncommon Sense: Jesus and the Renewal of the World (Chalice Press, 2012), Gospel in the City (Chalice Press, 2013), and The Nine Marks of a Good Sermon (Parsons Porch, 2015). She has been featured in several interviews with Rev. Peter Wallace on Day 1. Pastor Tina can be reached at pastortina@stpeterelca.org.
C. F. Crum, Choir Coach
We are so pleased to have Crum as our Choir Coach. He is retired from the education field; more specifically he was a band director. He and wife, Jennifer moved to the area a few years ago and live on a 10-acre homestead with animals and gardens. Other hobbies include bike riding; they have spent many hours riding the bike trails in Ohio. We are pleased they have made St. Peter their church home.
If your are interested in having fun and learning music in a
relaxed setting join us. Contact Pastor Tina or Coach Crum with questions.
Mary Kinney, Church Administrator
Mary began her service at St. Peter in October 1991. A longstanding member of the congregation, Mary is the point person for communication in our community and can be reached at office@stpeterelca.org.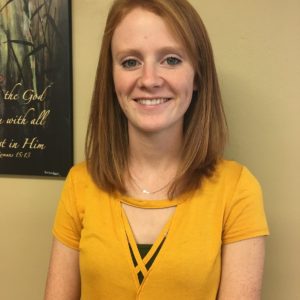 Emily Hostettler, Custodian
Emily became our custodian in September 2018. She is an active member at St. Peter. She is married to Brent and they have three active young children who keep her very busy.
Elly Rice, Emeritus Organist
Elly became one of St. Peter's organist in 1950 when she was 18 years old. Her ministry to St. Peter extended beyond music including roles such as treasurer and council member. Now enjoying retirement with her husband Walt of over 66 years, Elly continues to be a blessing to our congregation offering music supply when the need arises.
Shitong Sigler, Accompanist
Shitong Sigler is currently pursuing her Doctor of Musical Arts (D.M.A) degree in Piano Performance at the Ohio State University. With full Graduate Teaching Associateship, Shitong teaches undergraduate Class Piano courses since 2014. In 2016, Shitong completed the Dual Master's Degrees and received her Master of Music (M.M) degree in Piano Performance and Master of Arts (M.A) degree in Piano Pedagogy from the Ohio State University. Shitong earned a Bachelor or Arts (B.A) degree double major in Piano Performance and Business Economics from the College of Wooster.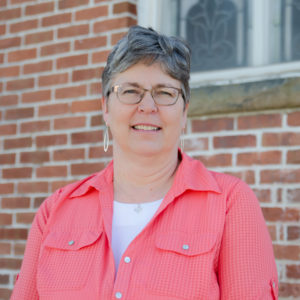 Rita Tegtmeier, Treasurer
Rita began keeping the church's finances in 1996. A lifelong member of St. Peter, she has an Associate Degree in Accounting from Wooster Business College. In addition to her service to St. Peter, Rita serves as the cafeteria manager at Northwestern Elementary School. Rita can be reached at treasurer@stpeterelca.org.
Tara Vaughan, Panda Preschool Administrator
Tara has been educating future generations at Panda Preschool for the past decade. The past five of
those years she has served as the Panda Preschool Administrator in addition to her role as teacher.
Tara has a Bachelor's of Education from Ashland University, and is a lifelong member of St. Peter. Tara can be reached at pandapreschool@stpeterelca.org.